We have allocated a block of rooms at the Marriott Residence Inn at San Macros with the special rate of $110 per night. These rooms are available on a first come first serve basis. Reservations for this special rate must be conference registered attendees, presenters, vendors or students.

The block is identified by the event name Southwestern Region of the Consortium for Computer Science.

Distance to event location: ~3 miles

Room Rate Includes:
Onsite self-parking, in-room wireless Internet, breakfast, and evening reception.

For Reservations:
Reservation By Phone: 760-591-9828 or 1-888-288-9290 (toll-free)
Website: http://www.marriott.com/hotels/travel/sanmc-residence-inn-san-diego-north-san-marcos/


Marriott Residence Inn:
1245 Los Vallecitos Boulevard,
San Marcos, California,
United States 92069
If you prefer to stay in a hotel closest to the conference venue, we would recommend Hampton Inn & Suites. This hotel is located a mile away in the north of CSU San Macros campus. We don't have any special rate with this hotel. However, the rate is comparable with Marriott Residence Inn, which includes free parking, Internet, and breakfast.

Distance to event location: ~1 mile

For Reservations:
Reservation By Phone: 760-736-9249
Website: http://hamptoninn3.hilton.com/en/hotels/california/hampton-inn-san-marcos-SANSMHX/

There are a variety of other hotels in the vicinity of I-15 and I-78 that are also convenient to California State University of San Macros. They are identified in this Google map.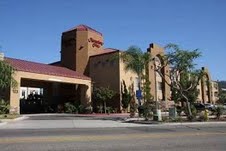 Hampton Inn:
123 E. Carmel Street,
San Marcos, California,
United States 92078