CCSC-SW 2014 conference will be held at California State University, Northridge.

There are three venues for this year's conference:


Oviatt Library (OV)
Jacaranda Hall (JD)
Orange Grove Bistro

On March 14, the conference begins with opening remarks and first keynote presentation in the Ferman Presentation room in the Oviatt Library (OV). After the first keynote, the first paper session will be held in Jacarenda Hall and the evening dinner will be held at the Orange Grove Bistro.

On March 15, all the events will be held in Jacaranda Hall (JD).

Parking Location:
CCSC-SW 2014 participants should park at Parking Structure G3. A parking permit is required to park on campus. Please visit the Lodging and Direction page for the following information:


driving directions to the G3 Parking Lot
walking directions to Jacaranda Hall (JD)
walking directions to the Oviatt Library (OV)

Download Campus Map and Conference Schedule:
The following map indicates the locations of these three venues. You can download a Campus Map and a conference schedule, both in in PDF format.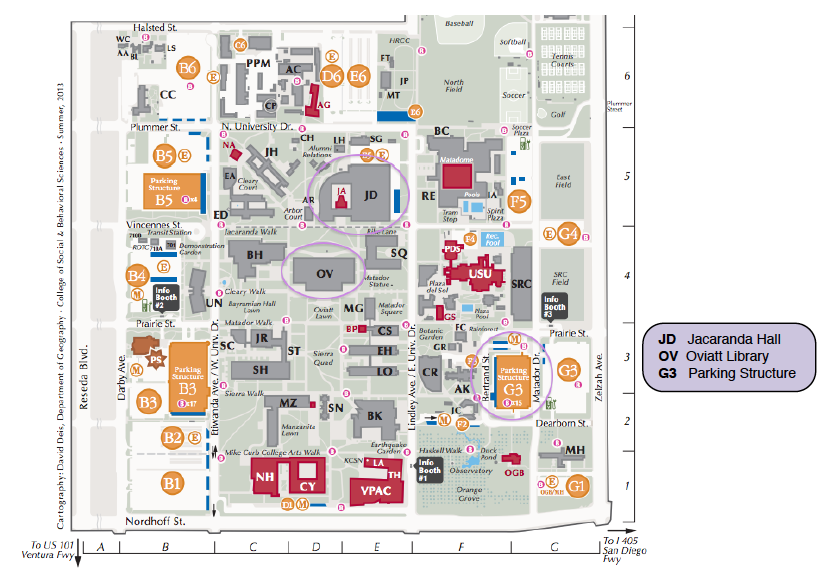 ---
Last Updated: Mar 7, 2014; Email Webmaster: msdoherty@ucdavis.edu