CCSC-SW 2015 conference will be held at Harvey Mudd College in the Shanahan Center Room 3460.
Please visit the
conference venues
page for details about the locations of the three conference venues, download a campus map and a conference schedule.
For any last minute questions, you can call the Harvey Mudd College Computer Science Department at
909-621-8225.
Campus Address:
301 Platt Blvd,
Claremont, CA 91711
Airports:
The nearest airports are
ONT:
10.2 miles (~20 minutes)
BUR:
42.7 miles (~50 minutes)
LAX:
52.4 miles (~60 minutes)
Hotel:
DoubleTree by Hilton Hotel Claremont
555 W. Foothill Blvd.,
Claremont, CA 91711
TEL: +1-909-626-2411
FAX: +1-909-624-0756
Parking & Directions:
CCSC-SW 2015 participants should park on Foothill Blvd. A parking permit is required to park on campus.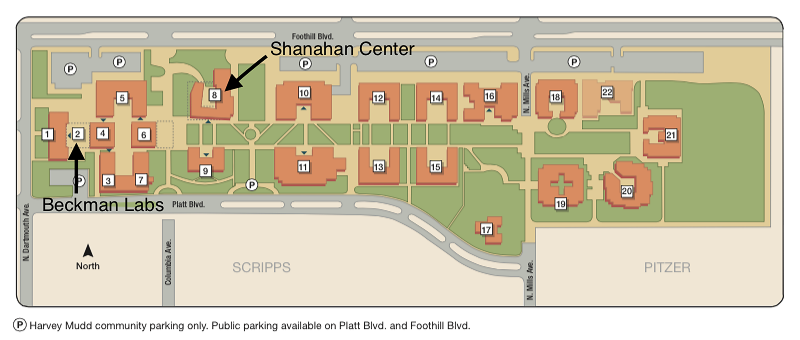 Driving Directions from Hotel to Parking:
Turn west (right) out of the hotel onto Foothill Blvd.
Make a U-turn at N Mountain Ave.
Continue east on Foothill Blvd until reaching Dartmouth Ave.
Park on Foothill Blvd. between Dartmouth Ave. and N Claremont Blvd. Harvey Mudd College is on the right.