Submission Deadline: Friday, March 13, 2021 (approximately)
Competition Date: Saturday, April 10th, 2021
We are inviting all current college and university students to submit an abstract describing original research and/or projects, relating to any computing topic. Authors of accepted abstracts will develop a poster presentation and present it live for judges and other conference attendees.
Last year we had a great turnout and this year we hope to do even better! To see how you or your students can get in on the fun, read on.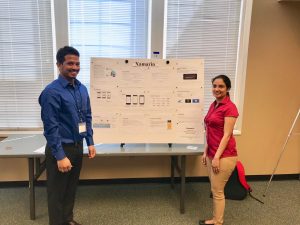 A one-page abstract (between 100 and 400 words) must be submitted via email to the Student Poster Contest Chair, Dr. Joseph Kendall-Morwick (jkendallmorwick@missouriwestern.edu), on or before 3/6/2020. Submissions should be in PDF format and can be generated from one of the following templates:
Posters do not need to be complete at the time that the abstract is submitted but must be complete by the time they are presented at the conference. Submissions will be accepted based on expected relevance to the conference. In the case of limited presentation space, abstracts will be accepted competitively based on relevance and additionally the research and mechanical quality of the submitted abstract as judged by the student poster contest committee.
Rules and Judging Criteria for Poster Presentations:
All judging will be performed by professional computer scientists attending the conference. Undergraduates and graduates will be judged in separate categories. All judgments are final. Additionally, presentations must conform to the following constraints:
Presentations for the purpose of judging will take place during the paper session time slot immediately prior to the poster session.
At least one student author must be registered for the conference and present during both the judging session and the session for general audiences.
Posters will be scored by judges on the following four criteria:

Research/Technical Quality
Presentation Quality
Lessons Learned
Poster Quality

Posters are expected to be between 24″x36″ and 36″x48″ in size.
Easels and backer boards will be provided. If other poster sizes or media are required for the presentation, contact the Student Poster Contest Chair, Dr. Joseph Kendall-Morwick to seek permission at least two weeks before the competition date.
Contestants must be registered individually and at least one student author must be registered and present during the competition. More information on registration may be found on the registration page.
Faculty mentors are encouraged to attend the conference but are not required to do so. We also encourage all interested faculty to assist in advertising the competition by distributing the CFP (Call For Posters) flyer.
Titles and authors of past winning submissions:
2020: Posters are available here
2018:

A look into the Virtualized Network and Virtualized Penetration Testing Lab —Bradley Taylor and Daniel Favor — Northwest Missouri State University (Faculty Mentor: Dr. Scott Bell)
D.Eco – Development of a system that shows the trees on Drury University's campus — Faisal Alsabhan, Kylie Pfaff, Cory Harris, Morgan Brown — Drury University (Faculty Mentors: Dr. Scott Sigman and Dr. Branton)
MR. Mol: Mixed Reality Molecule —Matthew Camp, Anastasiya Golovan, David Hagerty, Jessica Sok, Caitlin Windham, and Bryan Yeap — Georgia Gwinnett College (Faculty Mentors: Dr. Evelyn Brannock and Dr. Robert Lutz)
2017:
Predicting 2016 U.S. Presidential Candidate Success Using Twitter and Machine Learning — Jennifer Steffens and Alexis Kulash — Drake University (Faculty Mentors: Dr. Eric Manley and Dr. Timothy Urness )
Building a Customer Relationship Managment System for the Kansas State Polytechnic Admissions Department —Charles Bockhorn and Ben Stich — Kansas State University Polytechnic (Faculty Mentor: Dr. Thomas Mertz)
Automotive Data Acquisition System — Ryan Fabac — Computer Systems Technology Kansas State University Polytechnic