We are inviting all students to submit abstracts on any topic in computing.  The student poster content includes research or innovative development from all areas of computer science. The judges will include professional computer scientists attending the conference, and the evaluation will be based on the quality and significance of the work and the clarity of the oral and visual presentation. The decision of the judges is final.
Last year we had a great turnout, and this year, we hope to do even better.  To see how you or your students can get in on the fun, read on.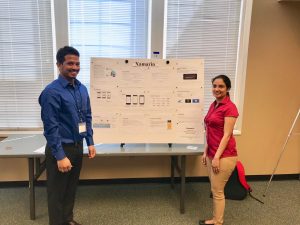 Rules:
Judging will take place during the paper session time slot immediately prior to the poster session, and at least one student author must be present during judging.
For posters with multiple student authors, at least one student must register, attend the conference, and be present during the presentation/judging session on Saturday morning.
Posters and abstracts must be submitted via email to the Student Poster Contest Chair, Dr. Ajay Bandi, as late as 3/11/2019.