Welcome to the Web site of the Consortium for Computing Sciences in Colleges (CCSC). Whether you are a member of the Consortium, a participant in one of the regional conferences, or a professor or student with an interest in the issues pertaining to college computing, our hope is that you will find these pages informative and useful. Information regarding the regional conferences sponsored by the consortium is of particular interest.
About the Consortium
The purpose of the Consortium is to promote the betterment of computer-oriented curricula in two- and four-year colleges and universities; to improve the use of computing as an educational resource for all disciplines; to encompass regional constituencies devoted to this purpose; and to promote a national liaison among local, regional, and national organizations also devoted to this purpose. Predominantly these colleges and universities are oriented toward teaching, rather than research.
The Consortium holds meetings in conjunction with other computer education organizations, on its own, and sponsors sessions and tracks at such meetings. The annual meeting of the membership is held in conjunction with the ACM/SIGCSE Technical Symposium on Computer Science Education.

Special Statement from the Board of Directors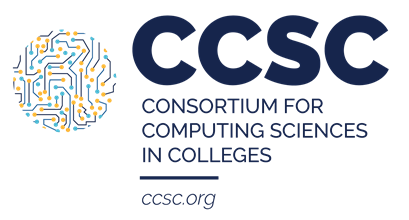 November 15, 2022
Dear Friends, Colleagues, Partners, and Members of the CCSC:
The CCSC Board of Directors had its fall meeting on November 10, 2022. At the meeting, our president, Chris Healy, resigned effective November 11, 2022, due to personal circumstances, stating that "he does not expect to be able to give the CCSC Presidency the attention it needs for the foreseeable future." Chris joined CCSC as a Southeastern Region board member in 2004 and began his term as President this year. Chris leaves CCSC in a strong position for continued growth, and we sincerely thank him for his contribution and leadership during his time here. The Board wishes him the best of luck and opportunities in his future endeavors.
As a result, the vice president, Scott Sigman, will be acting president until the end of the year, per Article VI of the CCSC Bylaws. Scott appointed Karina Assiter as acting vice president until the next election. Scott and Karina have both previously served as CCSC presidents and will bring their knowledge and leadership to bear as we move forward with these unanticipated changes.
During our meeting, the board reaffirmed our commitment to Article XI of the CCSC Bylaws: "This organization shall be non-racial, non-partisan, non-sectarian and shall wholly abstain from any political or labor affiliation or endorsements for public office." With this in mind, the CCSC board continues to be committed to supporting its members in efforts of inclusion, diversity, equity, and access. We strive to be an inclusive organization and encourage all members (faculty, students, and affiliates) to be committed to these same efforts.
The CCSC remains committed to welcoming and supporting students, faculty, and staff from diverse backgrounds and experiences.
Sincerely,
CCSC Board of Directors
Spring 2023 Virtual Water Cooler Meetings
In our efforts to bring more value to your CCSC membership, we are pleased to announce this term's the Virtual Water Cooler meetings. This is your chance to meet with other computing educators to share innovations in pedagogy, find out the latest in educational technology, or just talk about the state of our discipline. Membership Secretary Cathy Bareiss at Bethel University is the host. Here is the schedule and links for Spring 2023:
Tuesday, February 7th: 3:30pm Eastern Time
Wednesday, March 8th: noon Eastern Time
Friday, April 28th: 4:00pm Eastern Time
New on the Website